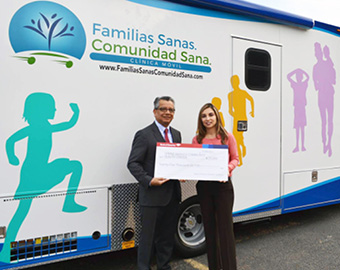 Purpose
The purpose of the Healthy Families Healthy Community Mobile Clinic is to improve access to high-quality, low-cost healthcare in underserved areas of Spring Branch and West Houston where there is a large gap in high quality, culturally sensitive and affordable healthcare.
The target population is under- and uninsured individuals who may experience barriers accessing healthcare services. Medical services provided on the Mobile Clinic include health screenings, wellness checks and health education delivered by clinical and outreach staff to educate patients about health issues, including social and environmental factors that can affect health.
Outreach and education in this underserved area will contribute to early detection of the risk factors for certain health problems, which can lower disease rates, reduce health care costs, and enhance quality of life. When patients are equipped with good information, it not only provides actionable results, but directly impacts families and contributes a healthier community.
Goal
The goal of the Healthy Families Healthy Community Mobile Clinic is to reduce health disparities in the Spring Branch Community Health Center service area, bolster prevention and chronic disease management, and reduce costs. The Mobile Clinic will overcome barriers (lack of health insurance, cost, transportation) to improve access to care, increase utilization of preventive services and increase awareness of the importance of prevention.
Mobile Clinic staff will provide education on healthy lifestyles and recommended screening tests in a culturally and linguistically appropriate manner. Most importantly, staff can schedule an appointment for each patient based on their chief complaint or health education needed "as a referral" to the SBCHC clinic location that is most convenient for them to visit.
The Mobile Clinic is available on request to participate in health fairs, patient meetings, school carnivals, food distribution, and other health screening event opportunities benefiting the community. Check the calendar for upcoming events or submit a request for the Mobile Clinic at your next community event.
Schedule an appointment at one of our clinics  
Call us at 713-462-6565 today to make your appointment at one of our clinics.
Request the Mobile Clinic at your next event*
*Pending availability of the Mobile Clinic and staff. Due to overwhelming demand, not all requests can be fulfilled.